Nicole Buffett Biography
2010
---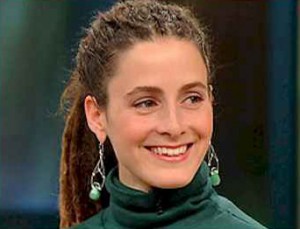 Nicole Buffett was born in Los Angeles but lives and works in the San Francisco Bay area. She received a BFA in 2002 and an MFA in 2004 from The San Francisco Art Institute. Nicole was profoundly influenced by an Independent study program for textile design she participated in Jaipur, India, while studying at SFAI. Upon her return from India, she began exploring her work as an abstract painter.
"Abstraction allows all feelings to be felt, all visions to be seen. Abstraction has become the most articulate way for me to communicate the expansiveness and liberation found in the act of making," Buffett explains. Her exposure to the natural dyeing process and rural/indigenous practices in the countryside of Rajasthan India, inspired her to explore her use of materials. The abstract landscapes Nicole creates are "spaces wherein freedom from the representational enables deeper spiritual possibilities." This exploration opened up an entirely new chapter in Nicole's life as a painter.
In the Summer of 2009, Nicole was awarded a 2 month residency at the JB Blunk Residency Program in Inverness California. While living in a 100 acre forest preserve, she created a body of work that encompassed her love of nature and sustainable living. Nicole feels that the presence and use of natural materials in her work create an inherent, intrinsic power.
Nicole has appeared on Oprah, NPR and CNN. She is currently serving on the Board of Trustees for The San Francisco Art Institute. Nicole is represented by The Andrea Schwartz Gallery in San Francisco.
AWARDS AND ACHIEVEMENTS
2009: Elected Board member, The San Francisco Art Institute, San Francisco, CA
2008: Awarded JB Blunk Residency Program
2007: Guest Speaker, NPR
2006: Appeared on The Oprah Show
2005: Illustration for VHI/MTV Documentary Film, Freestyle: The Art of Rhyme
2004: Guest speaker for CCA. Textile Department. San Francisco, CA
2001: Independent Study/Internship. Anokhi textiles. Jaipur, India
SELECTED PRIVATE COLLECTIONS
2009: Dave Hinkleman, New York, New York.
2009: Mark Mukai, Honolulu, HI
2009: Tiffany Persons, Los Angeles, CA
2008: Scott Ross, Los Angeles, CA
2007: James Haygood. Los Angeles, CA
2006: Heidi Groshelle, San Francisco, CA
2006: Colette Brooks. Los Angeles, CA
— Diane Britz-Lotti. New York, NY
— Heather Hartle. San Francisco, CA
— Jennifer La Macchia. Washington DC
— Lori Black. San Francisco, CA
2005 Scott Ross. Los Angeles, CA
— Richard Fischer. San Diego, CA
2004 Lisa Ludwig. San Francisco, CA
— Alfred Medcalf. Berkeley, CA