From Michael North
President of The Bridge
The Bridge is bringing the best of America to China, and offering the best of China to America. We present excellence in business, finance, culture, the arts, technology — all that these two great nations offer to each other, and to the world.
A major current project, initiated in 2013, is offering the new financing method, the Royalty Exchange, to business and government participants in China. In conjunction with Arthur Lipper and his wife, Anni, the Bridge is proud to represent this significant breakthrough in practical finance for private companies.
---
In 2010, we were honored present Mary Buffett, world-famous author in investment and finance, for a landmark three-day business education seminar in Beijing.
Mary is the former daughter-in-law of Warren Buffett, the world's most successful investor. As a member of the Buffett family, Mary studied the methods of the master personally. She understands Buffett's powerful strategies — and in Beijing in October, 2010 she revealed them, teaching by example, telling family stories, answering questions.
Mary Buffett showed how Chinese investors can build enduring wealth in the stock market. In this time of rapid growth, there will be many new billionaires in China, and Mary helped Chinese investors to succeed. She answered some surprising questions, for an elite audience of financial and government leaders.
More business education programs will follow, with Mary Buffett and other global financial leaders.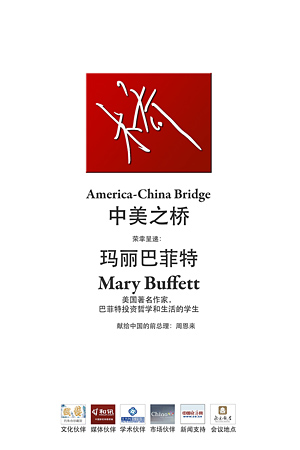 ---
America-China Bridge also supports the founding the Zhou Enlai Peace Institute. The Bridge donates 10% of its income to the Peace Institute.
Peace is the underlying foundation of solid, enduring business — in the family, the community, the country, and between nations. Without peace, effective investment is almost impossible, because it implies shared belief in a positive, stable future.
But creating peace is not simple. It requires a complex of conditions to be present, all at once — social and government stability, well-regulated legal and investment conditions, international treaties, a strong education system, good public health, a sense of optimism and opportunity…where can we begin?
We begin by teaching how to live a life of peace. And that is best done through real-life examples, through stories. We need role models, heroes of peace, so that everyone — from the innocent 4-year old who knows little, to the experienced 84-year-old who thinks he knows everything — can learn, remember, and change their behavior to live a daily life of peace.
So we come to Zhou Enlai. A man of extraordinary accomplishments in the political, military, economic and social fields, his life commitment was centered around one simple principle: building a world of peace for the people of China.
The Zhou Enlai Peace Institute celebrates the life of this extraordinary man, understand his history, background, his family, words and actions. We will tell stories that follow the arc of his life, from youth to age. The people of China will see with fresh eyes a man whom they already respect as a compassionate, knowledgable founder of their country.
And the rest of the world will come to understand a man who worked for them as well, to create a world in which a peaceful, productive China is taking its place among the leaders of nations.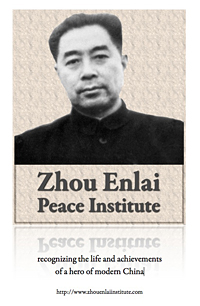 Download the detailed plan
for this important global peace initiative.
---
The global energy economy is in the process of transformation — from carbon energy such as coal, oil and gas, to renewable energy sources, such as solar, wind, biomass, tidal, geothermal and more. Nowhere is this process more vital than in China, which can be a model for the world in building a new energy economy.
America-China Energy Trust is a new investment fund, founded by the Bridge, committed to helping to provide the expertise and financing for this historic task.
---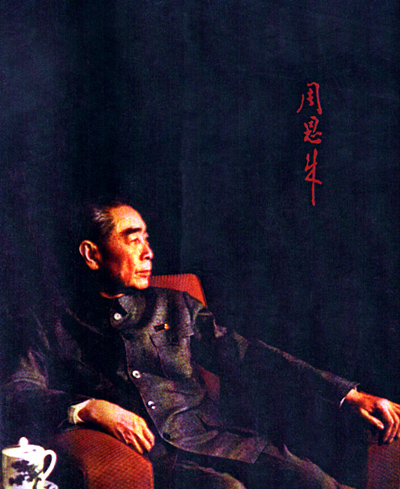 dedicated to Zhou Enlai,
former Premier and Foreign Minister of China