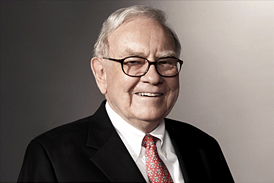 Businessman and billionaire investor Warren Buffett is known as "The World's Greatest Investor" and "The Oracle of Omaha."
Born in 1930, he was an early mathematics genius, and made his first investment at age 11. At 13 he was a paperboy, and sold a horse-racing tip sheet. During high school, he purchased a used pinball machine, and within a few months sold the business for $1200.
He attended University of Pennsylvania and University of Nebraska, and graduated with $10,000 from his early businesses.
He got an advanced degree in business at Columbia University and in 1956, shortly after graduation, formed the firm Buffett Partnership in his hometown of Omaha.
He is legendary for his patience as an investor, his thorough research, and his appetite for detail. Through his central company, Berkshire Hathaway, he built a fortune estimated in 2008 at $62 billion; he owns major stakes in GEICO, Coca-Cola, American Express, Bank of America, Goldman Sachs, Comcast, Moody's, Johnson & Johnson, Kraft, Wells Fargo, Procter and Gamble, Walmart and many more — a who's who of great American companies. His interests in China are growing, with a recent 10% stake in BYD, China's leading manufacturer of hybrid vehicles and batteries.
---
Selected segments from interviews with Warren Buffett, July 2010.
 Segments include: the best advice he has ever received; advice for personal finance; about the economic recovery; raising children the right way; teaching young people; and the Giving Challenge, in which Warren and Bill Gates are encouraging the wealthy of the world to give back to society.
In June 2006, Buffett announced that he would be giving his entire fortune away to charity, committing 85 percent of it to the Bill and Melinda Gates Foundation. This donation is the largest act of charitable giving in United States history. He has since amplified this commitment to give away 99% of his wealth, and started a group, the Giving Challenge, to encourage other billionaires to give away at least 50% of their wealth to charity.
---
Warren's son, Peter Buffett, was married to Mary Buffett for 12 years; they have twin daughters. Peter recently wrote a best-selling book, "
Life is What You Make It
" — recounting life growing up with his father. Mary has written six best-sellers, including "
Buffettology
" and "
The Tao of Warren Buffett
", analyzing his investment methods up close and teaching them to others.
Links: Biography.com | Wikipedia | Yahoo/Huffington Post Interviews
Warren Buffett has not participated personally in the development of the Bridge seminar in Beijing; no endorsement is intended or implied.